VANILLA AND LEMONGRASS BRULEE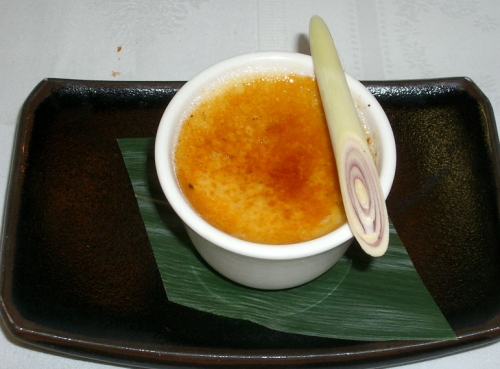 8 SCRAPED VANILLA PODS AND SCRAPINGS
1.4 LTS DOUBLE CREAM
500ML WHOLE MILK
24 EGG YOLKS
10 LEMONGRASS STICKS (CHOPPED)
300G SUGAR

METHOD;

Infuse the cream and milk with the vanilla and the lemongrass by heating gently.
Cream the egg yolks and sugar together. Once the cream mix has cooled add to the yolks. Leave the vanilla and lemongrass in the mix until the desired strength is achieved, then pass.

Pour the brulee mix into your chosen moulds and bake in a bain marie in the oven on a low setting until just set, then cool. To serve caramelize the top with sugar and serve.