WHITE ASPARAGUS AND HAMACHI SASHIMI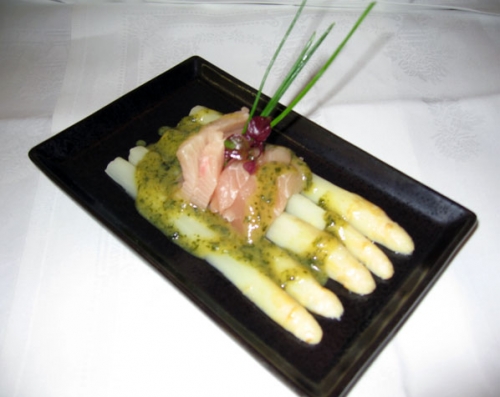 Sliced hamachi
Cooked white asparagus
Yuzu oba dressing
Purple shiso
Peel the asparagus and cook in boiling salted water until al-dente, plunge into iced water. Drain and cut in half lengthways, store until required.
YUZU OBA DRESSING
50g shiso leaves
400ml yuzu
1 kg sweet miso
300ml grapeseed oil
Pound the shiso in a pestle and mortar to form a paste, combine with rest of ingredients and whisk together.
To assemble the dish lay 5 halves of asparagus in the centre of a plate, making sure they are all the same length, fan the hamachi on top and spoon sauce over and around. Garnish with purple shiso.