TATAKI OF WAGU BEEF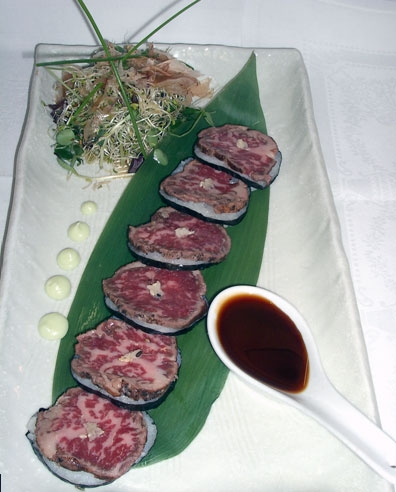 Wagyu beef fillet
Olive oil
Maldon sea salt
Cracked black pepper
Cooked and seasoned sushi rice
Wasabi mayonnaise
Soy mirin glaze
Sakura cress mix, washed and dried
Bonito flakes
Finley grated daikon and ginger

Trim the beef fillet carefully removing the sinew but very little of the fat. Then cut the beef into logs about 4cm diameter. Season these logs with the salt, pepper and olive oil. Next sear them near to the middle of a very hot flat top, rolling them around for a minute or two to ensure an even searing. Wrap the logs very tightly (while still warm) in cling film to achieve a good round shape, tie each end chill until required.
Using the sushi rice and a sheet of nori make round tubes the same size as your beef fillet so it will sit on top evenly.

To finish the dish make a zig zag pattern on a plate using the wasabi mayonnaise and the soy, mirin glaze. Cut six disks from the sushi rice about 5mm thick. Slice six slices of beef to the same dimensions as the rice and sit neatly on top. Put a small dot of the grated daikon and ginger in the middle of the beef and spread these evenly around the plate as shown. Take a little of the cress mix and place in the middle of the plate, drizzle a little of the salad dressing over the cress and top with a couple of bonito shavings and some long chives.

SALAD DRESSING
20g Dijon mustard
100ml pon zu
130g grape seed oil

Mix the mustard into the pon zu and then whisk in the grape seed oil. Whisk until well emulsified and store until required.

SOY AND MIRIN GLAZE.
1 l mirin
500ml dark soy sauce
400g sugar

Mix the soy sauce, sugar and mirin in a pan and reduce to the correct consistency. Do not over reduce or the glaze will become bitter.