TAR TARE OF TUNA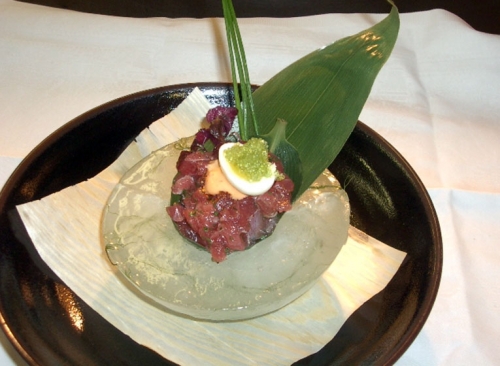 Tuna cut into a 5mm dice
Finely chopped chives
Maldon sea salt
Japanese lemon pepper paste
Sushi rice dressing
Grape seed oil
Soft boiled quail's egg
Chilli mayonnaise
Wasabi tobiko caviar
Bamboo leaf
Long chives

Mix the chives with tuna and season with Maldon sea salt. Make a vinaigrette style dressing with the lemon pepper paste, sushi dressing and grape seed oil. Bind the tuna with the dressing and check the seasoning. Adjust if necessary. Place the tar tare in a bamboo cone, and then into an ice bowl. Put a little chilli mayonnaise on top of the tuna followed by half a soft boiled quail's egg, wasabi tobiko caviar, purple shiso and some long chives. Serve immediately.

CHILLI MAYONNAISE
Mix chilli garlic sauce (Lee Kum Kee) to taste into mayonnaise. Store in a fridge until required.
SUSHI RICE DRESSING
1L rice wine vinegar
1 kg castor sugar
100g table salt

Put all ingredients into a pan and bring to the boil. When the sugar and salt have dissolved take off the heat, cool and store in a fridge until required.