CHAR SIU PORK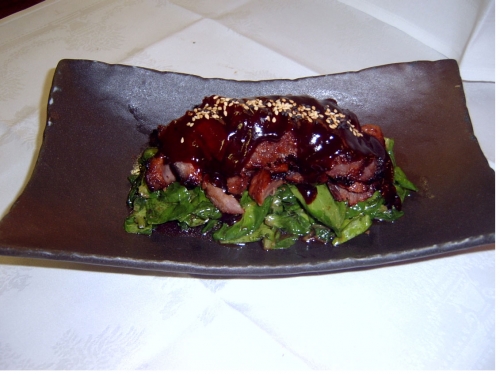 3kg pork neck trimmed
Char siu marinade
Char siu sauce
Tau miu
Sliced garlic
Julienne ginger
Kikkoman soy sauce
Castor sugar
Honey glaze
Toasted sesame seeds
MARINADE
8 tbsp hoisin sauce
2 tbsp crushed yellow bean sauce
150ml shaohsing wine
1 tbsp five spice
3 tbsp salt
1 bowl sugar
5 tbsp golden syrup
Combine all the ingredients and pour over the pork, marinade for 24 hours.
CHAR SIU SAUCE
1 tbsp garlic puree
2 tbsp vegetable oil
2 tbsp sesame oil
2 sharing bowls hoi sin sauce
1 sharing bowl water
2 ½ sharing bowls castor sugar
HONEY GLAZE
50% honey
50% syrup
Heat a pan with a little oil and colour the pork on all sides, add a little of the marinade and roast in a hot oven, brush with honey glaze every few minutes and keep turning the pork as the sauce will burn. Meanwhile heat a wok with a little vegetable oil and add 10-15 strands of ginger and 5-6 slices of garlic. Next add the tau miu, Kikkoman soy and a little sugar, wok fry very quickly as they should only be ¾'s cooked. Arrange in a line in a centre of a bowl, slice the pork and place on top, pour some of the hot char siu sauce over the pork and garnish with sesame seeds.