CHILLI SALT SQUID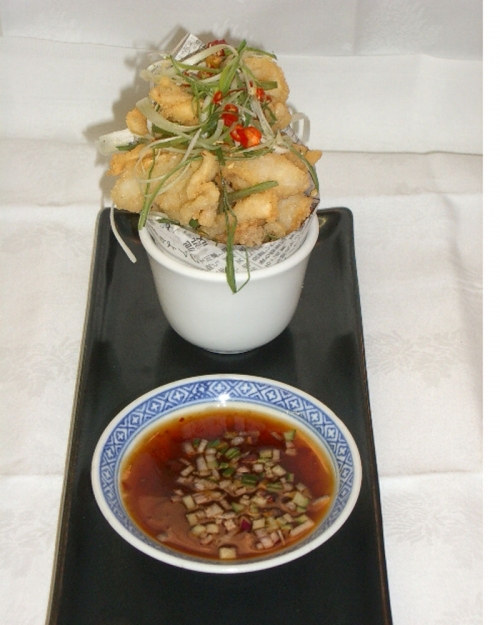 CHILLI SAUCE
1.5kg Large red chili de seeded and blitzed to a fine but rustic consistency
2 sharing bowls of Garlic
5 bottles golden mountain vinegar
equal amount of castor sugar to vinegar
fish sauce to taste
Place vinegar, sugar and red chilli in sauce pan and reduce down to syrup add fish sauce to taste. You may need to add a little water to achieve a pouring consistency.
SQUID
Clean squid and slice very fine on the angle cover well with corn flour making sure every part of the squid is covered leave to stand for a few hours then coat in corn flour again.
Fry squid to order in vegetable oil at 180oc for about 1 minute or until the squid is a light golden colour and crispy. season with salt and cracked black pepper, dress in a paper cone and finish with julienne of spring onion and chopped red birds eye chili. Serve with a ramekin of the chilli sauce garnished with a brunoise red onion and cucumber.