DUCK AND WATERMELON SALAD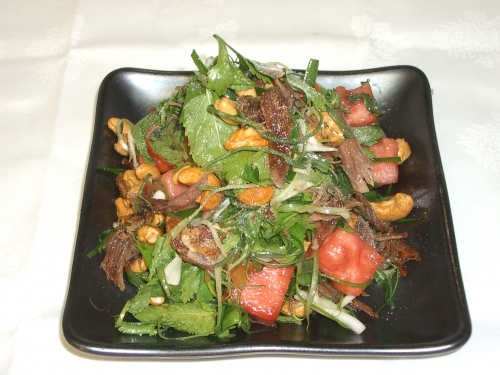 Confit duck legs
Watermelon deseeded and cut into large cubes
Julienne spring onion
Coriander leaf picked
Mint leaf picked
Cashew nuts roasted
Thai red shallots sliced
Dried and roasted large red chilli ground to a powder
Sweet fish sauce
Hoi sin sauce
DUCK CONFIT MARINADE
1 KG Rock Salt
300g castor sugar
8 Sticks Lemon Grass
5 Heads Garlic
200g Ginger
200g Galangal
20 Lime Leaf
1 LG Bunch Coriander
Zest & Juice of 4 Oranges
Blitz all of the fresh ingredients so all of the flavours are extracted, then mix with the salt and sugar.
2 tbsp Szechwan peppercorns
2 tbsp black peppercorns
2 tbsp coriander seeds
2 tbsp mustard seeds
2 tbsp juniper berries
10 star anise
3 sticks cinnamon
2 tbsp 5 spice
20 cardamom pods
Toast and blitz all the dry spices, then mix with the rest of the ingredients. Marinade the duck legs for 24 hours. This marinade can be used a maximum of two times. There is enough marinade for 50 duck legs.
The next day wash off the marinade, dry the legs and submerge in duck fat. Cook in a slow oven until the meat is tender and will come away from the bone easily(about two hours). Cool the legs down and store in a fridge until required.
SWEET FISH SAUCE
4 kg palm sugar
2.5L water
8 Lg banana shallots sliced
12 sticks lemongrass bruised
12 lime leaves
550ml tamarind water
275ml fish sauce
Put all the ingredients into a pan, bring to the boil and then simmer and reduce until the correct consistency is achieved. Do not pass the sauce until it is required as the flavor will get better with age.
TO MAKE THE SALAD
Put one duck leg into a deep fat fryer and cook until crisp. Take the meat off the bone, shred and mix with a little hoi sin sauce. Take a mix of all the other salad items from the first list above and dress with some sweet fish sauce. Mix the salad and the duck meat together adjust the seasoning if required and dress on a plate ensuring the dish has height. Top with a light sprinkling of the dried chilli powder and serve.